Renewable Energy
Find latest News, Industry Updates, Markets, Finance, Policies and Regulations, Tenders
Renewable Energy News in India
Indian renewable energy sector will lead world in clean energy: Goyal
---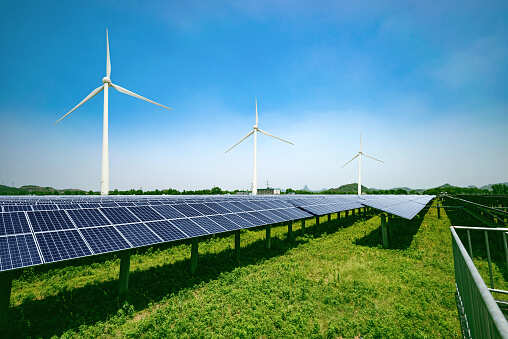 New Delhi: Union Minister of Railways and Coal Piyush Goyal on Friday said India's renewable energy sector will lead the world to the next level of clean energy.
"This is the take-off point for the next phase of renewable energy. I look forward to a day when sun, wind and biogas become the main source of energy. Let us lead the world to the next level of clean energy", Goyal said while speaking at Second Global Renewable Energy Investors Meet and Expo.
He also hailed Indian renewable energy sector for helping the entire world to reduce energy costs and said, "The renewable energy sector in India has brought the cost of solar energy lower than thermal or coal-based power costs. This has helped the entire world in bringing down the energy costs."
Goyal also stressed on the significance of solar energy and how it would transform the energy segment of India.
"An Empire used to say "The Sun never sets on our Empire". India will provide the kind of infrastructure to make sure the Sun never sets when it comes to generating power and meeting the energy needs of Crores of people. It will not be coal, natural gas or oil, but hydropower, bio-waste and solar energy that will become the primary sources of energy in a net zero and carbon-free world", he said.
Reiterating Central government's commitment to ensure electrification of every house, Goyal said, "We have almost doubled the country's renewable energy generation capacity in a short span of time, and are planning to take it the next level at a very rapid pace. The days of expensive power are going to be over."
"Prime Minister Narendra Modi has recently been awarded 'Champions of the Earth' the highest environmental honour by the United Nations. He is someone who believes in being the change we want to see. Prime Minister had the vision to see that India will show the way towards a cost-effective energy program, which can succeed without subsidies. He has shown what is good for India is good for the world and the entirety of humanity," he added.
On September 26, Prime Minister Modi and French President Emmanuel Macron were recognised in the Policy Leadership category of the Champions of the Earth on the sidelines of the 73rd UN General Assembly in New York.
News Date:
06-Oct-2018
News Source:
https://energy.economictimes.indiatimes.com/news/renewable/indian-renewable-energy-sector-will-lead-world-in-clean-energy-goyal/66094065
About Portal
'All About Renewables' aims to bring about a change in the way we 'look and search' for data on renewables today, by providing access to the latest developments in the renewable energy sector (specifically renewable electricity), along with cross-linkages to the conventional energy sector, all on one single platform... Read More
Contact
Plot No.44, Hindustan Estates,
Kalyani Nagar, Pune 411 006, India
+91 20 26613855
+91 20 26613832