Renewable Energy
Find latest News, Industry Updates, Markets, Finance, Policies and Regulations, Tenders
Proposed Amendments in the Tariff Policy, 2018 (as on 30.05.2018)
A. Introduction
- The need for attracting adequate investments from public and private sources has been acknowledged.
B. Legal Position
- The Forum of Regulators has been acknowledged as the facilitator to maintain consistency in legal approach across the country under the provisions of the Act.
C. Return on Investments
- Replacement of the "balance needs to be maintained" by "balance may be maintained" between the interests of the consumers and the need for investments while laying down the rate of return.
D. Generation
- Any change in cost structure of a project after the bid is awarded may, unless otherwise provided in the PPA, be allowed as pass-through following the principles and procedures laid down by the appropriate commission.


- An appropriate mechanism for reimbursement of carrying cost for the period from the date of occurrence of change in law and till the approval of change in law by the Commission shall be established and allowed by appropriate Commission.


- In case of dispute in implementation of above procedure, the same may be referred to the Appropriate Commission and excess payment made, if any, shall be reimbursed at the rate of carrying cost.


- The fixation of RPO by appropriate Commission has been scraped on the ground that the Ministry of Power has already issued a "Long Term Growth Trajectory of RPOs" which will be adopted by all state electricity regulatory commissions (SERCs).


- Assessment of RPO requirement and its compliance shall be worked out from total consumption by deducting the consumption from hydro power and the consumption from captive generation from waste heat gases as a byproduct of the industrial process in case of a captive obligated entity. Nonetheless, consumption from co-generation from sources other than renewable sources, the same shall not be excluded from applicability of RPOs.


- Promotion of renewable energy certificates (RECs) as a means to promote purchase of renewable based electricity in the same proportion in different states is annulled.


- The suitable framework for service standards for reliable and quality power supply shall include the following –

- - Entitlement of the consumer for 24 x 7 electricity supply, provided no charge of default or offence under the Act has been brought against him.
- - The quality of supply – as per the Central Electricity Authority.
- - Timely response or disposal of application for connection/ disconnection/enhancement or reduction of connected load.
- - Complaints of disruption in supply must be responded within the stipulated time frame barring major breakdown or force majeure.
E. Distribution
- The state commission shall notify the standards of performance of licensee within 60 days of the issue of the Tariff Policy.
- The license of the DISCOM will be liable to be suspended if they fail to show long term/ medium term PPAs to meet the annual average power requirement in their area of supply.
- In case of power cuts other than in force majeure conditions or technical faults, an appropriate penalty, as determined by the SERC, shall be levied on the Distribution Company and credited to the account of the respective consumers. The quantum of penalty shall be laid down by the respective SERC through Regulations.
F. Multi-Year Tariff (MYT) Framework
- Removal of the clause on sharing of excess profits and losses with the consumers as part of the overall multi-year tariff (MYT) framework.
- The tariff in the MYT framework shall be a two-part tariff with the capital costs being reflected in the fixed charges linked to capacity and the energy charges reflecting the average purchase price of power with administrative margins.
G. Revenue Requirements and Costs
- The State Commissions and Joint Commissions shall not consider Aggregate Technical and Commercial (AT&C) losses exceeding 15% for determination of tariff after 31.03.2019, provided that AT&C loss level for tariff determination may be aligned with targets mentioned in the MoU for UDAY, in case of states which have signed the MOU.
- AT&C losses shall be brought down to a level of 10% within 3 years from the date on which AT&C loss levels of 15% is to be achieved.
- Emphasis on tariff determination without taking into account any subsidy components.
- Any subsidy to be given to any category of consumers shall be given by way of Direct Benefit Transfer directly into their accounts.
H. Tariff design: Linkage of Tariffs to Cost of Service
- Principles for giving subsidies only to the needy customers –

- - Through direct benefit transfer.
- - Introduction of prepaid metering.
- - Tariff for all consumer categories will be brought within ±20% of the average cost of supply effective from 1st April 2019 or earlier.
- - Poor consumers consuming less than 60 kWh per month may receive cross subsidy subject to the condition that the effective minimum tariff will be 50% of the average cost of supply.
- - SERCs may lay down appropriate tariff framework in order to promote electric mobility and for enhancing energy security.

- Principles need to be adopted for simplification of tariff categories and rationalization of retail tariff –

- - Prevalence of not more than five major consumer categories
- - Supply voltage level (LT/HT) sub-categorization for each category
- - Progressive process of merging of existing categories/sub-categories and slabs
- - Allowance for seasonal industries to change contracted demand twice a year with at least one-month notice
- - Supply to individual category/subcategory may be provided at fixed multiple of cost of supply
- - Time-of-the-day (ToD) tariff and two-part tariff shall be introduced on or before 1st April, 2019 for consumers who are having suitable meters.
- - Recovery of revenue requirement by the DISCOMs should be enhanced through fixed charges which should be so set that it leads to recovery of at least 50% of the fixed costs in case of domestic and agriculture categories and at least 75% recovery of fixed costs in case of other categories progressively over next three years.
- - Single-part tariff for poorer section of the society.
I. Cross-Subsidy Surcharge and Additional Surcharge for Open Access
- The open access customer shall be liable to pay cross subsidy surcharge for a maximum period of one year from the date of opting for open access.
- All the information related to open access shall be made available transparently and applications seeking permission to grant open access shall be disposed of in a time-bound manner according to the regulations to be specified for the same by appropriate commission.
- Removal of the cause for the recovery of fixed costs related to network assets through wheeling charges
- Transmission losses shall be adjusted in scheduling in accordance with the regulations framed by Appropriate Commission.
- Losses in wheeling of electricity in distribution system may be adjusted in scheduling or may be paid for in accordance with the regulations framed by State Commission.
- Standby charges shall be applicable only for the open access customers who had have not retained Contracted Demand with the distribution licensee.
- In order to avoid frequent changeover of customers between supply from open access and that from the incumbent distribution licensee, such customers must schedule power on open access for at least eight consecutive hours from conventional sources and four consecutive hours from renewable sources.
Rooftop Solar Policy
As on 31 December 2018, the total installed solar rooftop capacity in India was 1144 MW. Recently, the Government of India has approved central financial assistance to the tune of Rs.118.14 billion for the second phase of the rooftop solar programme.
Following figure shows the state-wise and year-wise capacity plans indicated by MNRE to achieve the cumulative capacity of 40 GW by 2022. Maharashtra, Uttar Pradesh and Tamil Nadu are seen to have the highest installation targets.
Sector-wise proposed targets for this scheme are as follows –
- Commercial and industrial sector – 20,000 MW
- Government sector – 5,000 MW
- Residential sector – 5,000 MW
- Institutional sector – 5,000 MW
- Social sector – 5,000 MW
Figure 1: State-wise and Year-wise Proposed Targets for 40,000 MW Grid -connected Solar Rooftop Projects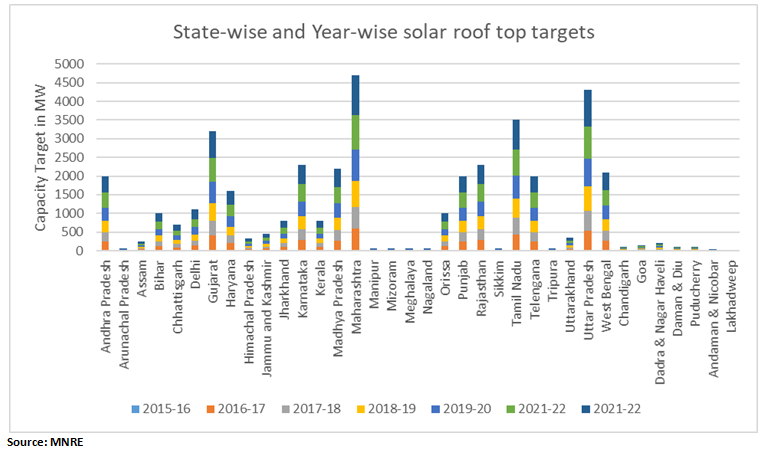 SRISTI (Sustainable Rooftop Implementation for Solar Transfiguration of India)
With an objective to accelerate deployment of solar rooftop projects, the Ministry of New and Renewable Energy (MNRE) has launched SRISTI (Sustainable Rooftop Implementation for Solar Transfiguration of India) Scheme to bring the distribution companies to the forefront for rooftop solar (RTS) implementation in the country by providing them performance based central financial support. The incentives will be given on incremental RTS capacity installed by the DISCOMs in their distribution network from the installed base capacity (at the end of previous financial year) within the timeline of 12 months (financial year-wise, i.e. 01.04.2018 to 31.03.2019, 01.04.2019 to 31.03.2020, and so on, till the duration of the scheme). Under the provisions of this scheme, central financial assistance (CFA) shall be available only to the residential users installing up to 5 kWp capacity of RTS plant.
KUSUM Yojana (Kisan Urja Suraksha evam Utthaan Mahaabhiyan)
KUSUM scheme which was announced in 2017-18, was recently implemented by the Indian government. The Central Financial Assistance of Rs.334 billion provided will be utilized for the following –
- Installation of grid-connected ground-mounted solar power plants each of capacity up to 2 MW.
- Installation of standalone off-grid solar water pumps.
- Solarization of existing grid-connected agricultural pumps to make farmers independent of grid supply and enable them to generate and sell surplus power to the DISCOMs for extra income.
- Solarization of tube-wells and lift irrigation projects.
One of the primary aims of this programme is to provide interested farmers with solar pumps by replacing the existing diesel pumps. The capacity of these pumps will be 720 MW. The government will also install unique tube-wells, which is expected to generate power of 8250 MW.
About Portal
'All About Renewables' aims to bring about a change in the way we 'look and search' for data on renewables today, by providing access to the latest developments in the renewable energy sector (specifically renewable electricity), along with cross-linkages to the conventional energy sector, all on one single platform... Read More
Contact
Plot No.44, Hindustan Estates,
Kalyani Nagar, Pune 411 006, India
+91 20 26613855
+91 20 26613832