Renewable Energy
Find latest News, Industry Updates, Markets, Finance, Policies and Regulations, Tenders
Renewable Energy News in India
Stable outlook for solar, negative for wind energy in 2020-21
---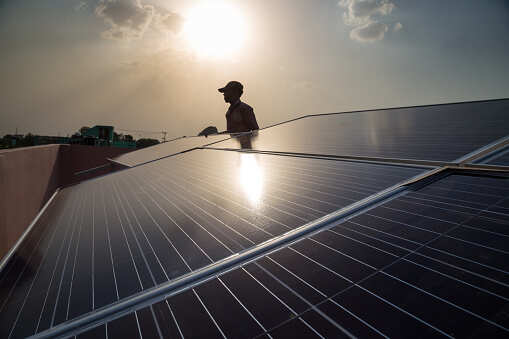 New Delhi: The ratings of solar power projects are likely to remain stable next financial year (2020-21) given revenue generation in line with projections and limited exposure to weak counterparties. Also, construction completion of projects with strong counterparties will be positive for projects, India Ratings said.
"However, there could be some slippages in construction timelines due to delays in the import of modules from China. Given the force majeure clause application, the tariff is unlikely to be affected and the agency does not expect any significant cost overruns," the rating agency said in a report.
The outlook for the wind energy sector looks negative on the back of uneven plant load factor performance, weak counterparties and a few weak operations and maintenance contractors. "Counterparties' financial stress and distribution companies' higher dependence on an external source of funding to settle the mounting power purchase dues do not augur well for projects and elevates the counterparty risk," the report said.
A new reform framework in the offing for distribution companies would be a key event for overall energy infrastructure assets and in case the counterparties profile see a sharp shift due to the new policy action, the generators would be a beneficiary.
The firm also said in the thermal power sector the ratings of projects with power purchase agreements covering the majority of capacity continue to be stable. However, there is an emerging risk as the projects are now compelled to upgrade the facilities to comply with the emission norms.
News Date:
05-Mar-2020
News Source:
https://energy.economictimes.indiatimes.com/news/renewable/stable-outlook-for-solar-negative-for-wind-energy-in-2020-21/74497716
About Portal
'All About Renewables' aims to bring about a change in the way we 'look and search' for data on renewables today, by providing access to the latest developments in the renewable energy sector (specifically renewable electricity), along with cross-linkages to the conventional energy sector, all on one single platform... Read More
Contact
Plot No.44, Hindustan Estates,
Kalyani Nagar, Pune 411 006, India
(020) 26613855
(020) 26613832
Newsletter Subscription